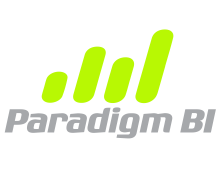 Active Business Intelligence
Active Business Intelligence is a Call to Action initiated by the BI Consumer from a BI Report. Paradigm BI provides products and services to implement Active Business Intelligence. Most Business intelligence platforms don't allow users to instantly turn their insights into actions. Paradigm BI, a boutique business intelligence studio, creates custom Power BI solutions which allow your BI Consumers to act on their insights using automated business processes. Only a few years ago Business Intelligence systems were expensive and difficult to implement, Power BI has changed that and made BI affordable and achievable. Our goal is to take the insights offered by that model and use them to orchestrate automated business processes.
Overview
Business Intelligence provides insights into business performance and productivity. Desktop and web BI tools have progressed rapidly in the last few years in their ability to deliver timely information to the business. Process improvement has seen automation of business processes that were previously manual. Using Paradigm BI custom visuals, it is now possible to apply insights gained from business intelligence directly to the business process. This yields an immediate improvement to the business process by eliminating intermediate steps that may involve copy and paste, email or flicking between systems, all areas prone to human error. Paradigm BI enables you to use business intelligence to take control of your business processes.
The Problem
Currently there are few solutions available in the BI space to bridge the gap from Business Intelligence to Business Process. We aim to provide a configurable responsive solutions that can be dropped into existing systems using Power BI.
The Solution
Recently there has been an ongoing convergence of business technology. Business systems can be linked together using published APIs, so that processes can be automated. Power BI provides the ability, as do most BI systems of selecting and drilling into data, we have further extended that functionality to allow a contextual Call to Action to enable actions on BI insights.
The Model
The Paradigm BI model is based on ease-of-use. A Power BI custom visual is dropped onto a Power BI report and then configured to use the appropriate fields and the URL of a web API to which it will send a message. We have used Microsoft Flow to provide our target URL, other automation servcies such as Zapier are also suitable. Our first visual provides the ability to generate a task from Power BI, an omnibus solution which will lead to further public and bespoke visuals delivering needed functionality. Initial API interfaces have been accessed through Microsoft Flow which has access to over 300 API connectors. Paradigm BI completes the bridge to actions in the business process. Best of all this is not just on the desktop, this is on the web and can be shared with your colleagues using desktop, tablet or mobile phone.
---